Highlights
Resource potential open for extension and infill along main trend
Midway Hills to Main Pit upside supported by widespread intercepts
Lack of drilling defines extent of mineralized zones
Identified gold resource is approx. 50% in argillite (OP) and 50% in lower Volcanics (TVl)
High-grade feeder system to the deposit has yet to be clearly identified
Parallel southern trends open in all directions
Geology
The Tonopah property contains a low-sulfidation epithermal gold system with near vertical quartz-adularia-gold veins hosted by the Palmetto Formation and the overlying Tertiary rhyolitic volcanics. These are large dilatational breaks in the regional Rye Patch- Walker Lane fault systems. In addition, a discontinuity has been identified in drilling at the top of the Palmetto formation, where tertiary volcaniclastics and ashfall tuffs unconformably overlay the argillite. Significant alteration and mineralization are localized within a low-angle zone which includes and often parallels the erosion surface of the Palmetto, as well as several facies in the tertiary volcanics, particularly where veins and mineralized structures intersect this contact zone. With the exception of a single outcrop, the gold-bearing altered, and mineralized zones of the Tonopah deposit are masked by alluvium, playas and sand dunes.
Analysis of gold mineralization demonstrates a bi-modal population of high-grade mineralization associated with high angle structures and a lower grade population of mineralization associated with the argillite/volcanic contact zone.
Alteration and Mineralization
Alteration and mineralization at the Tonopah property are typical of low-sulfidation, volcanic-hosted epithermal gold deposits found elsewhere in Nevada and around the world. The deposit type is characterized by overall low original sulfide content, and quartz-adularia and clay-sericite alteration assemblages, among others. Vein textures are indicative of high level, near surface emplacement and include void fills, crustiform coatings, colloform banding, and comb structures. Similar deposits in Nevada have proven to be economic, including the Midas, Bullfrog and Round Mountain deposits. The proximity and similarities of the Tonopah property to other gold deposits does not, on its own, indicate that the Tonopah property should be similarly mineralized.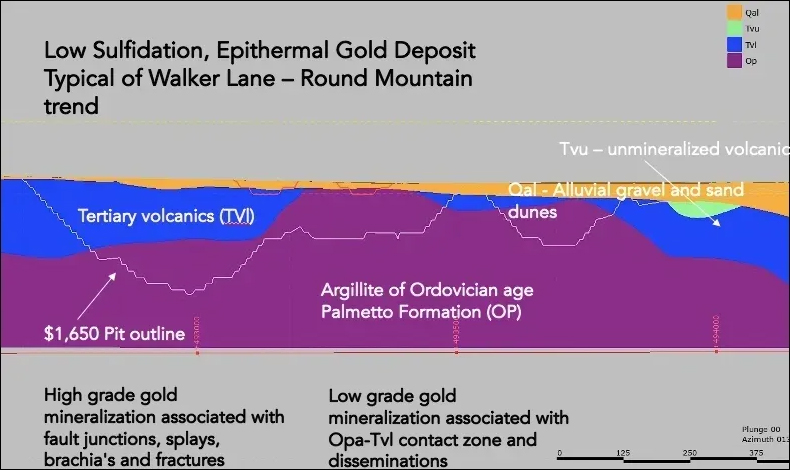 Structural Settings - Open Extensions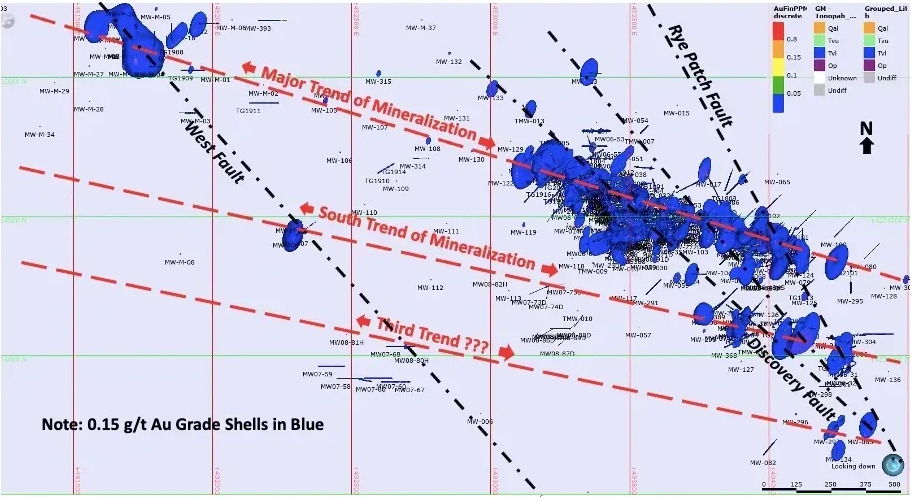 Exploration Upside