Property Detail
The Tonopah property is located approximately 30 km northeast of Tonopah, Nevada and 30 miles south of Round Mountain. It consists of 513 unpatented mineral claims, totaling 10,250 acres, that are located in the Ralston Valley, on the northeast side of the San Antonio Mountains in the Walker Lane structural trend of west-central Nevada.
176 of the unpatented claims are subject to a 2% Net Smelter Return Royalty (NSR). 1% of the 2% NSR may be acquired at any time for $1.0 million. This option does not expire. The remaining 337 claims are not subject to any royalty.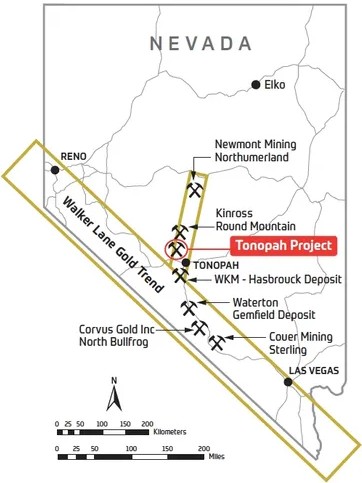 Project Infrastructure
A commercial water pipeline belonging to Tonopah Public Water Utility and a 15 kV (ungradable to 25 kV) Nevada Energy powerline crosses the eastern boundary of the claim block. The project is in close proximity to equipment and supply distribution centers in Las Vegas and Round Mountain.